Fall 5k Walk/Run or 10k Run Trail Races Results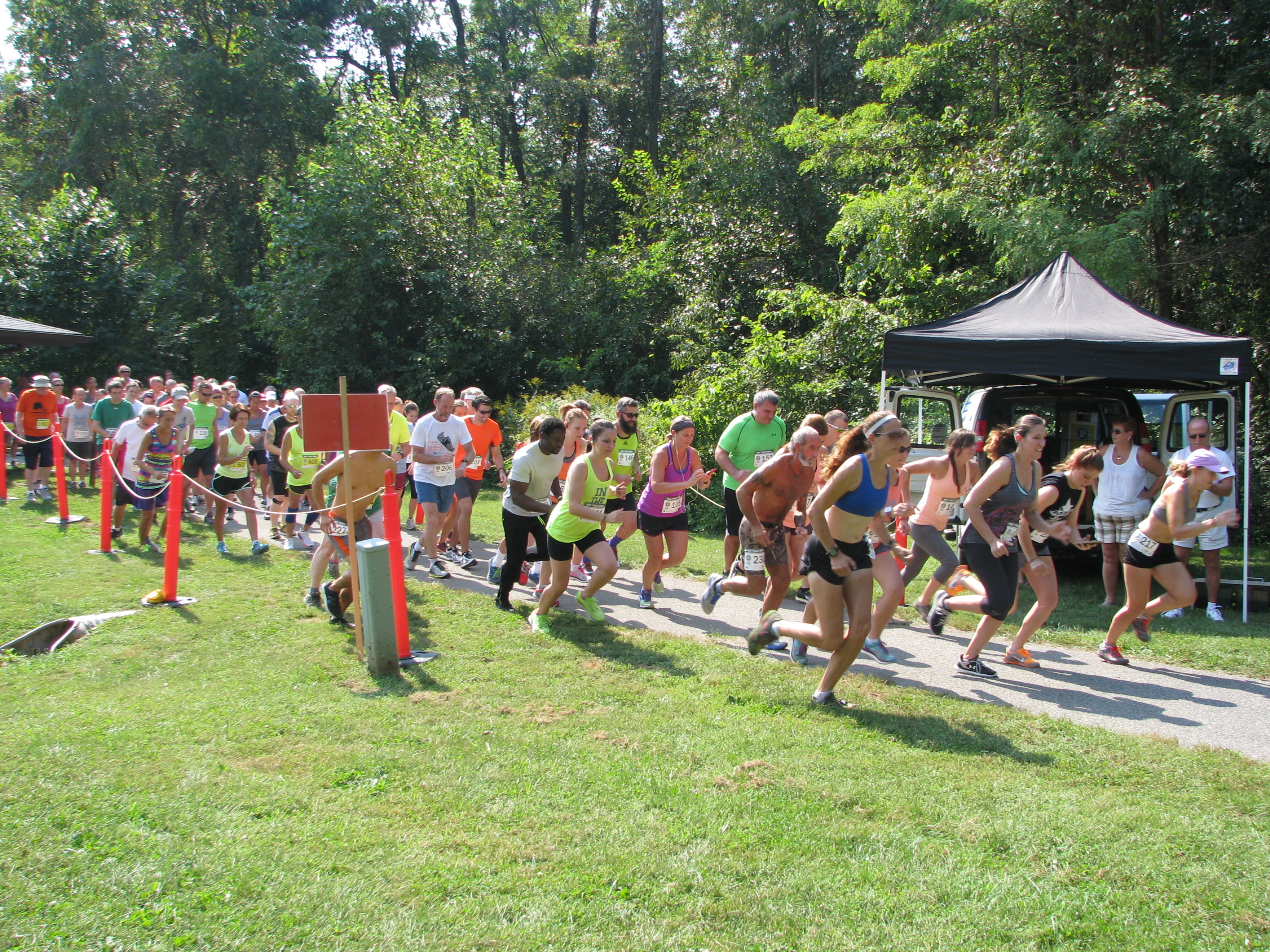 YMCA / McCormick's Creek Trail Race Drew Racers Statewide
On Sunday, September 24, at 2:00pm, the firing of a starter pistol marked the beginning of the eighth annual YMCA/Friends of McCormick's Creek Trail Run/Walk.  Twenty-five determined athletes completed the rigorous 10K course while thirty-four ran and twenty walked the 5K route.  Two local non-profit organizations, the Owen County Family YMCA and the Friends of McCormick's Creek State Park, hosted the event as a fund raiser to help fund community programs at the state park and provide Y memberships for families and individuals requiring financial assistance.  Local businesses and organizations backed the race as sponsors or formed teams and ran or walked in the event.  Hamilton Center was recognized as the largest team with 6 participants.
Runners and walkers of various ages and experience levels from across the state competed in the YMCA/Friends of McCormick's Creek Trail Run/Walk.   Racers ranged in age from 9 year-old Alex Morgan, who finished the 5K course in 36:14, to 79 year-old veteran runner Joe Liechty of Greencastle who crossed the finish line in 31:51 as the ninth overall finisher in the 5K.    Notably, third place overall in the 5K Run went to 14 year-old Jacob Pfaff of Solsberry, Indiana, with a time of 26:53.
Awards, refreshments, photos, and time for fellowship followed the competition.  Ian Portteus of Spencer took home the 1st place trophy in the 5K Run with a time of 25:33, while Crystal Swinehart, also of Spencer, won the women's division of the 5K Run and placed seventh overall with a time of 28:56.  Barry Beavers of Hendersonville was the first male walker and Kim Cain of Kokomo was first female walker to cross the finish line with times of 39:42 and 41:20.  Sarah Leeds and Todd Taft, both of Bloomington, were the first 10K runners to cross the finish line in 52:41.
The YMCA and the Friends of McCormick's Creek would like to thank the following race sponsors:
Canyon Inn
Babbs Supermarket
Racetrackers
Indiana State Parks
Hoosier Energy
Owen Valley Health Campus
Endeavor Communications
Byers Home Furnishings
Owen Valley Winery
Wally & Kathy DeFord
Casey's General Store
West & Parrish & Pedigo Funeral Home
Sweet Owen Convention & Visitor's Bureau
McCormick's Creek Rehabilitation & Skilled Nursing
Plans are underway for a 5K road race and a 1 mile fun run in April of 2018. Look for details and online registration soon at www.FriendsMcCormicksCreek.org or www.owencountyymca.org.  Anyone interested in volunteering or sponsoring the event should contact Y Program Director Laura Gentry at programs@owencountyymca.org.
Photo Identification (L-R)
Photo 1:  Grant Minnemeyer and Ian Portteus sprinting toward the finish to take 1st and 2nd overall 5K Run.
5K Walk Winners:  Mindy Lent, Kim Cain, Joanne Alee, Carissa Hendershot, Lucas Hendershot, Barry Beavers
5K Run Winners:  Grant Minnemeyer, Ian Portteus, Keri Cool, Jacob Pfaff, Crystal Swinehart, Lauren Richerme, Hannah Wright, David Chasse, Joe Liechty
10K Run Winners:  Thomas Dalheim, Todd Taft, Traci Dalheim, Robert Morgan, Roger  Stout, Sarah Leeds, Rachel Noirot, Jeremy Clarke, Hannah Clausman, Sandra McKay, Natalia Sanchez, Ariel Clausman
Final Photo:  Start of the race