In-Person Training
In-person classes meet at the YMCA each Sunday for 8 weeks at 1-4 pm. Students are graded on classroom participation as well as a final exam.
Students also receive six in-car driving lessons and will sign up each week for the times that work with their schedules.
Class size is limited, so register early.
Cost is $400. Weekly payments are available.
Call the Y for session availability at 812-828-9622.
2023 Session Dates

2024 Session Dates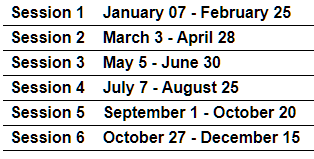 Drive Tests
If you've completed lessons with us, drive tests may be administered by appointment for a fee of $40. The drive test may be administered when student is nearing 16 + 3 months, which is the date to get their probationary license. We will provide a drive test completion form to be taken to the BMV, waiving the need for the BMV drive test.